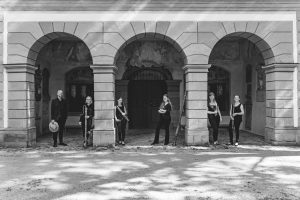 Fünf Flötistinnen, eine Sängerin und ein Perkussionist gründeten 2014 aus Leidenschaft zur Musik der Renaissance und des Frühbarock das Ensemble
Flauto Consort Freiburg
. Die Musikerinnen lernten sich während des Studiums bei Prof. Agnes Dorwarth an der Hochschule für Musik Freiburg kennen. Seitdem verbindet sie die Faszination für den Consort-Klang, der nur beim Zusammenspiel von Renaissance-Instrumenten gleichen Bauprinzips entsteht. Um den Text ausgewählter Madrigale und Chansons hörbar zu machen, arbeitet das Ensemble regelmäßig mit Sängerinnen zusammen. Sind Schwung, Lebendigkeit und tänzerische Leichtigkeit gefragt, so unterstützt der Perkussionist Michael Beilschmidt den Consort-Klang der Flöten.
Die Musikerinnen spielen auf insgesamt zehn verschiedenen Renaissance-Blockflöten, von Sopran bis Subbass. Die Bandbreite an Instrumenten verschiedener Größen ermöglicht es, das tonale Register dem jeweiligen Repertoire anzupassen. Das Flauto Consort Freiburg hat sich zum Ziel gesetzt, das großeRepertoire vielfältiger Kompositionen, die die Renaissancemusik bereithält, zu entdecken und zur Aufführung zu bringen. In seinen Interpretationen ist das durch intensive musikalische und zwischenmenschliche Zusammenarbeit verbundene Ensemble immer um Authentizität, Lebendigkeit und Ausdrucksstärke mit Präzision und Tiefgang bestrebt. Neben musikwissenschaftlichen und aufführungspraktischen Recherchen im Vorfeld der Programmkonzeption steht die Kreativität, das Repertoire speziell für die Kombination von Flöten, Gesang und Perkussion einzurichten. Dabei spielt das Flauto Consort Freiburg auf Nachbauten originaler Renaissance-Instrumente: Während des Studiums nutzte es hierfür ein Consort des Flötenbauers Bob Marvin (CAN) der Freiburger Musikhochschule, seit 2017 spielt es auf einem eigenen Consort von Peter van der Poel (NL). Des Weiteren sind bisweilen einzelne Flöten von Monika Musch (D) und Andreas Schwob (CH) zu hören.
Für seine Konzerte versucht das Ensemble stets Orte zu finden, die sowohl akustisch als auch thematisch zu der Musik passen. Dabei tritt es in Kirchen, Klöstern und Konzertsälen, aber auch an ungewöhnlichen Orten wie in Cafés, Kulturscheune, Windmühle oder Weinstube auf. Neben zahlreichen Konzerten inDeutschland spielte es in den Fringe-Reihen der Festivals Oude Muziek Utrecht (NL) und Musica Antiqua Brügge (BE).
---

ENGLISH
In 2014, five recorder players, a singer, and a percussionist founded the ensemble Flauto Consort Freiburg based on a shared passion for the music of the Renaissance and early Baroque. The musicians met during their studies with Prof. Agnes Dorwarth at the Hochschule für Musik Freiburg. Since then they have developed a fascination for the consort sound, which arises only from the interplay of Renaissance instruments constructed in the same way. To allow the text of selected madrigals and chansons to be heard, the ensemble works regularly with singers. If liveliness and dance-like lightness are required, the percussion- ist Michael Beilschmidt supports the consort sound of the recorders.
The musicians play a total of ten different Renaissance recorders, from soprano to sub-bass. The range of instruments of different sizes makes it possible for the Consort to adapt to the respective repertoire. The Flauto Consort Freiburg has set itself the goal of discovering and performing the great repertoire of diverse compositions that Renaissance music has to offer. In its interpretations, the ensemble, which prizes its intensive musical and interpersonal cooperation, always strives for authenticity, liveliness and expression combined with precision and depth. In addition to musicology and performance research in the run-up to the program conception, the repertoire often has to be creatively arranged specially for the combination of recorders, voice and percussion. The Flauto Consort Freiburg plays on replicas of original Renaissance instruments: During their studies, they used a consort by the recorder maker Bob Marvin (CAN) of the Freiburg Musikhochschule, since 2017 they play on their own consort by Peter van der Poel (NL). Furthermore, occasionally individual recorders made by Monika Musch (D) and Andreas Schwob (CH) can be heard.
For their concerts, the ensemble always attempts to find locations that match the music both acoustically and thematically. They perform in churches, monasteries and concert halls, but also in unusual places such as in cafés, culture centres, windmills and wine bars. In addition to numerous concerts in Germany, they have played in the fringes o f the festivals Oude Muziek Utrecht (NL) and Musica Antiqua Bruges (BE).
---
FRANCAIS
La passion de la musique de la Renaissance et du premier Baroque conduisit cinq flûtistes, une chanteuse et un percussionniste à fonder l'ensemble Flauto Consort Freiburg en 2014. Ces cinq musiciennes firent connaissance lors de leurs études auprès de leur professeur Agnès Dorwarth au Conservatoire supérieur de musique de Freiburg en Alle- magne. Dès lors, elles partagèrent une même fascination pour le son très particulier du consort de flûtes, cet ensemble d'instruments de même facture.
Flauto Consort Freiburg joue sur des copies d'instruments originaux de la Renaissance : pendant leurs études, les flûtistes utilisèrent un consort du facteur de flûtes Bob Marvin (Canada) prêté par le Conservatoire supérieur de musique de Freiburg. Mais depuis 2017 il joue sur son propre consort du facteur Peter van der Poel (Pays-Bas). On peut également entendre par moments d'autres flûtes de la factrice Monika Musch (Allemagne) et du facteur Andreas Schwob (Suisse).
Au total les musiciennes jouent sur dix flûtes renaissance différentes de la soprano à la grande basse. L'étendue de la tessiture des différents instruments rend possible le respect de la tonalité originale de l'époque. Flauto Consort Freiburg s'est donné comme objectif de faire découvrir l'important répertoire de la musique de la Renaissance, aux formes riches et variées.
De plus, afin de faire entendre les textes des madrigaux et des chansons, l'ensemble travaille régulièrement avec la chanteuse Marie Köberlein. Le percussionniste Michael Beilschmidt soutient par son jeu le son du consort dans l'élan, la vivacité et la légèreté dansante des pièces de cette époque.
Grâce à un travail musical intense et une coopération humaine précieuse, l'ensemble recherche toujours l'authenticité, la vivacité et une forte expressivité tout en veillant à la précision et à la profondeur d'interprétation. Renforcée de recherches musicologiques, la volonté de présenter un répertoire particulièrement adapté à la combinaison des flûtes, du chant et de la percussion, intervient en amont de la conception du programme artistique.
Pour ses concerts, l'ensemble s'efforce toujours de trouver des lieux qui conviennent aussi bien sur le plan acoustique que thématique. C'est pourquoi il joue dans des églises, des abbayes et des salles de concert, mais également dans des lieux inhabituels voire insolites tels que des cafés, des instituts culturels ou des moulins à vent. A côté de nombreux concerts donnés en Allemagne, l'ensemble a joué au Festival Oude Muziek à Utrecht (Pays-bas) et au festival Musica Antiqua Brügge (Belgique).